Dean Obeidallah
Comedian
Dean Obeidallah is an award-winning comedian who was at one time was a practicing attorney. Dean hosts "The Dean Obeidallah show" on SiriusXM radio, which is a platform for Muslim and Arab voices on issues of the week. He co-directed/co-produced the comedy documentary, "The Muslims are Coming!" which used comedy to counter anti-Muslim bigotry. He co-created the "Muslim Funny Fest," the United States' first ever-Muslim stand up comedy festival, which took place in New York City in July. Dean has appeared on numerous TV shows performing stand up comedy including Comedy Central's "Axis of Evil" special, Comedy Central's "The Nightly Show," ABC's "The View" and "Comics Unleashed." In addition, Dean is a columnist for The Daily Beast and contributor to CNN.com Opinion and appears frequently on CNN and MSNBC. He has performed stand up comedy at colleges across the United States and has also performed frequently across the Middle East.
Website: www.deanofcomedy.com
Twitter: @deanofcomedy
Maysoon Zayid
Comedian
Maysoon Zayid is an actress, professional standup comedian, and writer. She received a BA in Acting from Arizona State University. She is the co-founder and co-executive producer of the New York Arab American Comedy Festival. Maysoon was a full-time On Air Contributor to Countdown with Keith Olbermann, and has most recently appeared on The Queen Latifah Show, The Meredith Viera Show, and Huffington Post Live. Maysoon is a recurring columnist at The Daily Beast and was a speaker at TEDWomen 2013.
Maysoon has appeared on Comedy Central's The Watch List, PBS's America at a Crossroads: Muslim Comics Stand Up, CNN, HBO, As the World Turns, MTV, 20/20, BBC's The Doha Debates, and had a feature role in Adam Sandler's You Don't Mess With the Zohan. As a professional comedian, Maysoon has performed in top New York clubs, and has toured extensively at home and abroad. She was a headliner on the Arabs Gone Wild Comedy Tour and The Muslims Are Coming Tour.
Maysoon's screenplay, If I CanCan, was chosen for the Sundance Middle Eastern Screenwriters Lab. She was a delegate at the 2008 Democratic National Convention and named one of 21 leaders of the 21st century by Women's Enews. She is the founder of Maysoon's Kids, a scholarship and wellness program for disabled and wounded refugee children and was delighted to be a 2013 honoree of United Cerebral Palsy NYC's Women Who Care Awards.
Website: www.Maysoon.com
Twitter: @MaysoonZayid
Mo Amer
Comedian
MO AMER has already cemented his stature as one of the pioneers of Arab-American standup, a truly original voice in comedy today. Comedy legend Dave Chappelle regularly invites Mo to feature for him, and in fact, Mo's first one-hour, solo standup special, "LEGALLY HOMELESS," is directly based on the creative input and advice of Chappelle. LEGALLY HOMELESS was directed by veteran standup director Jay Chapman, and is presently in post-production. Prospective television buyers are already reaching out for broadcast rights, after CBS Evening News recently announced: "Mo Amer is the first Arab-American to star in his own nationally televised one-hour stand-up special." Mo has appeared on television several times, starred in a handful of independent films, and has been interviewed by over 100 major world media outlets, including The New York Times, Rolling Stone, and The Guardian.
Website: MoAmer.com
Said Durrah
Comedian
Said Durrah is a Arab American Muslim Comedian who has traveled all over the world performing hilarious standup comedy. He draws inspiration for his storytelling style from his day to day encounters living as a palestinian jordanian muslim living near Washington DC. Said has shared his comedy on nearly every successful arab or muslim tour including The Funatical Tour, Arabs Gone Wild, 1001 Laughs, Allah Made Me Funny, and many many more. He has performed his comedy on Broadway but also famed locations such as the MGM Grand in Las Vegas and even his own comedy tour after only 1 year in comedy. His impersonations, facial expressions, and real life stories have allowed him to perform all over the world simply through word of mouth and little youtube exposure. He has been called "The One to Watch" by the global media as well as "The best kept secret in Arab and Muslim comedy".
Mike Easmeil
Comedian
Mike Easmeil, a comedian/writer of Palestinian heritage, is excited to again be part of the New York Arab-American Comedy Festival. A veteran of stand-up comedy, Mike first performed 16 years ago at Groucho's Comedy Club in Virginia while completing his communications degree. His clean, clever comedy pokes fun of himself, his family, and life's absurdities. In addition to owning a restaurant, being a husband and father of three, Mike performs at charity functions and comedy clubs on the East Coast.
Website: interestingtimes-easmeil.blogspot.com
Facebook: Mike Easmeil
Twitter: @TheMikeIsmail
Paul Elia
Comedian
Raised in Detroit Michigan. Family is of Chaldean descent. Started his career as a stand-in for Michael Imperioli on the TV show "Detroit 1-8-7". When the show finished filming, he dropped out of college and moved to LA. Recent TV appearances include Mistresses, Mixology, and Marvel Agents of Shield. Was cast in the 2013 ABC diversity showcase where only 20 actors were chosen among 7,000 submissions. Has a film coming out in 2015 titled "Dirty" which he starred in and produced alongside Roger Guenveur Smith. He can be seen doing stand up comedy all over the country.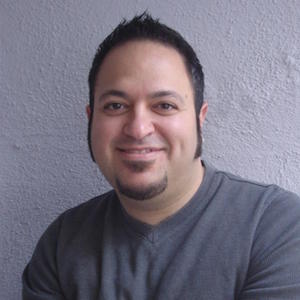 Noel Elgrably
Comedian
Noel Elgrably grew up in the nation's capital but left his day-job selling insurance to pursue his calling as a stand-up comedian in Los Angeles. The son of a French-Moroccan father and Moroccan-Israeli mother, he offers an original comedic perspective on growing up as a child of immigrants below the Mason-Dixon Line. Noel's irreverent and ornery style of comedy reminds us that even though we think we're different we're all the same when we're laughing at ourselves. Noel can be seen performing regularly at Los Angeles area comedy clubs such as The World Famous Comedy Store, The Laugh Factory, The Improv, and The Icehouse. He is an alumni of the New York City Arab-American Comedy Festival, performed in the Axis of Evil Comedy Tour, The Funatical Comedy Tour, is a regular cast member of The Sultans of Satire: Middle East Comic Relief Show, and has appeared on Showtime and Fox TV. He has trained as a dramatic actor and was featured in the indie feature films "Bad Space," "Clean" and "Body High."
Eman
Comedian
Since her comedy debut in 2006, Eman has racked up impressive credits. Some say it's because she's Arab, some say it's because she's female, most know it's because she's hilarious. Appeared in the Just for Laughs comedy Festival, The Amman Stand UP Festival and The Boston Comedy Festival to name a few. The Montreal Gazette describes her as "Fearless and ferociously funny".
Nour Hadidi
Comedian
Since first performing in 2012, Nour has opened for comedians like Andy Pitz, Erin Jackson, DeAnne Smith, David Pryde and Mike Patterson. She was also a ' Young Gun of Comedy', an annual feature by the Comedy Nest club featuring the next generation of comedians. In 2013, Nour was an opening act for Wonho Chung's Montal stop of his North American & European Tour and has been a member of the 'Kosher Jokes for the Halaladays' tour in Montreal and Ottawa for the past three years. She has performed at the Boston Women in Comedy Festival, Toronto's SheDot Festival and is excited to be back for the NY Arab American Festival for the fourth time.
Dina Hashem
Comedian
Dina Hashem first tried stand-up by auditioning for the 2010 New Jersey Comedy Festival at Rutgers University. After winning 1st place, she continued to pursue comedy and has since been performing regularly at clubs including Broadway Comedy Club, New York Comedy Club, Caroline's, Comic Strip Live, and The Stress Factory. Dina's style involves a subdued delivery with dark observations about her life and cultural upbringing. She has performed at the Bridgetown Comedy Festival, Boston Comedy Festival, Limestone Comedy Festival, and Burbank Comedy Festival. Her writing has also been featured on the websites of Comedy Central's Indecision Forever, CC Insider, and Nickelodeon.
Hoodo Hersi
Comedian
Hoodo Hersi is a promising Toronto-based comedian, having performed on prestigious shows including The Nubian Disciples of Pryor at Yuk Yuks. She was also nominated for the Tim Sims Encouragement Fund at Second City, taped her first TV comedy special for No Kidding and was a member on the panel for The Inside Joke (both of which aired in 2014 on iChannel). Hoodo had the great fortune of opening up for author/comedian Moshe Kasher, Hari Kondabolou, Eric Andre and Matt Braunger . She has also performed at the Boston Women in Comedy Festival and Toronto's Shedot Festival.
Luai Hodi
Comedian
Chicago based comedian Luai Hodi, returns for the 4th year in a row to the NYAACF. Luai will be bringing his unique style of comedy to NYC to entertain us all. Luai has performed stand up, sketch and improv all across the US from NYC to LA at comedy clubs, banquets, fundraisers, weddings, graduation parties and pretty much anywhere that there is a free meal.
Fadi Khalil
Comedian
Egyptian born, American raised Fady Khalil spreads his brand of Arab comedy to eager audiences in the Philadelphia area, even earning an opening spot for Philly's own, Keith Robinson (Tough Crowd w/Colin Quinn). Taking an unflinching look at what it means to be Arab in America, Fady enjoys being a comedic ambassador to the predominately non-Arab audiences of Philadelphia. He hopes his comedy helps bridge gaps between the two cultures he grew up with.
Dave Merheje
Comedian
Winner of Just For Laugh's 2011 Irwin Barker Homegrown Comic Award and NOW Magazine's 2011 Best of Toronto Award for Best Male Stand-up in 2011, a Canadian Comedy Award-nominee for Best Stand-up in 2012 and another nomination for NOW Magazine's Best of Toronto Award in 2013, Dave Merheje is making waves as one of the edgiest comics in the country today. Drawing from his Lebanese-Canadian perspective and personal experiences straight from the streets, Merheje is unfettered by political correctness. His "no fear" approach to comedy has gained a loyal following. Pure raging energy, he is electric, aggressive and in-your-face. Nothing is sacred as he fires off on urban life, Middle Eastern politics, Islamic extremists, working in strip clubs, club culture, drugs and masturbation. In 2014 Dave returned to Just For Laughs in Montreal, for his FOURTH appearance. This past year has been full of successes for Merheje. He won the 2013 Canadian On Campus Activities (COCA) Performer of the Year award, has been nominated for NOW Magazine's Best of Toronto "Best Male Stand-up", and shot several episodes for the upcoming television series Too Much Informationwhich will air on Super Channel!
Eman Morgan
Comedian
Egyptian American comedian Eman Morgan aka "Celebrity", is arguably one of the hottest stand up comedians today. Besides performing Stand Up, Eman is on a life long mission to personally meet Amr Diab! He also credits his sister for much of his success!
Website: www.emanmorgan.com
Michele Rafic
Comedian
NY born and raised to Egyptian parents-getting all her sass and brass from her mother and her atheism from common sense. Classically trained at Circle in the Square Theatre Conservatory;Graduate of the William Esper Studio. FILM: Oscar nominated GasLand; Shadowboxing; Trick. THEATRE: 5 Years of Sketch at the New York Arab American Comedy Festival; The Claque; Noor Theatre; International WOW, Sponsored By Nobody.
"Outside of a dog, a book is man's best friend. Inside of a dog it's too dark to read". -Groucho Marx.
Email: michrafic@gmail.com
Byron Sadik
Comedian
Cerebral, caustic, and fearless, Byron Sadik is one of the hottest comics out of the Detroit comedy scene. He turns his venomous wit on everything from online dating, his failed stint as a cagefighter, and his own personal anecdotes. He has opened for some of the best comics in the country, including Hal Sparks and Doug Stanhope.
Murad Saleh
Comedian
He grew up in Newark, NJ where the only Arabic spoken was either at home or 12 miles away in Paterson. With an engineering background, Murad expresses his less square side to everyone within an earshot. For him, the 11th Annual NYAACF is an opportunity to be in great company-mostly. Many thanks go to Maysoon and Dean for kicking in the door. HB Studios, HB Playwrights, Don't You Know I'm Loco, Starlite, Dirty Egyptians.
Mohammed Shaheen
Comedian
Mohammed got his start in Egypt in 2007 with the first time going on stage at the auditions of the axis of evil when they were touring Egypt. Ever since he's been performing in Egypt and constantly going back and forth to LA and NY performing stand-up. He has a unique style of dead-pan one liners while playing his guitar. He's been called the Egyptian demetri Martin even though he looks a lot like Louis ck.
Twitter: @S1linerm
Ali Sultan
Comedian
"Sultan is relaxed and engaging despite having no English when he arrived in the States (he claims his first word was "always", picked up from the constantly looping maxi pad commercials that run during daytime television) Sultan's comedy often excavates the casual racism that he and others from the Middle East encounter daily in the U.S., but where another comic might indulge in righteous anger, Sultan works in wryly amused mode, his genial and vulpine grin underscoring a wicked intelligence. Jokes from his set often begin in racially charged territory and then veer unpredictably." Will McGrath
Atheer Yacoub
Comedian
Atheer is a Palestinian-American raised in both Alabama and Palestine. She started performing comedy after moving to New York City, and hopes to either make a living at it, or at least redefine what American audiences think when they hear the words "Arab" and "bomb" in the same sentence. She produces a monthly stand up show in NYC, Shady Pines Comedy Hour, and is very excited to return to the festival for her third year.
Website: www.atheeryacoub.com
Facebook: www.facebook.com/atheeryacoub
Twitter: @atheeryacoub
Ramy Youssef
Comedian
Ramy Youssef is an actor and comedian from New Jersey. He currently stars in the Nick at Nite sitcom, See Dad Run, alongside Scott Baio and Mark Curry. He is half of the award-winning NYC sketch duo, Inside Joke Films, who have been official selections at the Chicago, San Francisco, and New York Sketch Comedy Festivals. He currently resides in Los Angeles, where he misses New York.