Dean Obeidallah
Comedian
Dean Obeidallah is an award-winning comedian who was at one time was a practicing attorney. Dean hosts "The Dean Obeidallah show" on SiriusXM radio, which is a platform for Muslim and Arab voices on issues of the week. He co-directed/co-produced the comedy documentary, "The Muslims are Coming!" which used comedy to counter anti-Muslim bigotry. He co-created the "Muslim Funny Fest," the United States' first ever-Muslim stand up comedy festival, which took place in New York City in July. Dean has appeared on numerous TV shows performing stand up comedy including Comedy Central's "Axis of Evil" special, Comedy Central's "The Nightly Show," ABC's "The View" and "Comics Unleashed." In addition, Dean is a columnist for The Daily Beast and contributor to CNN.com Opinion and appears frequently on CNN and MSNBC. He has performed stand up comedy at colleges across the United States and has also performed frequently across the Middle East.
Website: www.deanofcomedy.com
Twitter: @deanofcomedy
Maysoon Zayid
Comedian
Maysoon Zayid is an actress, comedian, writer, and disability advocate. She is a graduate of and a Guest Comedian in Residence at Arizona State University. Maysoon is the co-founder/co-executive producer of the New York Arab American Comedy Festival and The Muslim Funny Fest. She was a full-time On Air Contributor to Countdown with Keith Olbermann and a columnist for The Daily Beast. She has most recently appeared on Oprah Winfrey Networks In Deep Shift, 60 Minutes, and ABC News. Maysoon had the number one TED Talk of 2014 and was named 1 of 100 Women of 2015 by BBC.
As a professional comedian, Maysoon has performed in top New York clubs and has toured extensively at home and abroad. She was a headliner on the Arabs Gone Wild Comedy Tour and The Muslims Are Coming Tour. Maysoon appeared alongside Adam Sandler in You Don't Mess with the the Zohan and has written for VICE. She walked in New York Fashion Week and is proud to be an ambassador for the Cerebral Palsy Foundation. Maysoon is currently developing a comedy series with Hazy Mills Productions called If I Cancan.
Website: www.Maysoon.com
Twitter: @MaysoonZayid
Eman El-Husseini
Comedian
Since her comedy debut Eman El-Husseini has racked up an impressive list of credits. Traveling across Canada, the U.S and the Middle East she covers a wide range of topics, from how lesbians are the new gentlemen to her parents' wedding anniversary landing on, you guessed it, September 11th. Her latest accomplishment is obtaining a green card for being an Alien of Extraordinary Ability, you heard right, that's how good her comedy is!! Her festival appearances include the prestigious Montreal Just for Laughs fest (3 times), JFL42, the Cape Fear Comedy Festival and of course the beloved New York Arab American Comedy Festival, to name a few. She really wants you to follow her on instagram and twitter @emanifique
Remy Munasifi
Comedian
Remy Munasifi ("GoRemy") is a YouTube comedian from Arlington, Virginia. His songs include "Hey There Khalilah," "Saudis in Audis," "A-R-A-B: The Rap," and "Tabbouleh: The Song." His latest album, "The Falafel Album" is available on Comedy Central Records.
Mike Easmeil
Comedian
Mike Easmeil, a comedian/writer of Palestinian heritage, is excited to again be part of the New York Arab-American Comedy Festival. A veteran of stand-up comedy, Mike first performed 16 years ago at Groucho's Comedy Club in Virginia while completing his communications degree. His clean, clever comedy pokes fun of himself, his family, and life's absurdities. In addition to owning a restaurant, being a husband and father of three, Mike performs at charity functions and comedy clubs on the East Coast.
Website: interestingtimes-easmeil.blogspot.com
Facebook: Mike Easmeil
Twitter: @TheMikeIsmail
Paul Elia
Comedian
Raised in Detroit Michigan. Family is of Chaldean descent. Started his career as a stand-in for Michael Imperioli on the TV show "Detroit 1-8-7". When the show finished filming, he dropped out of college and moved to LA. Recent TV appearances include Mistresses, Mixology, and Marvel Agents of Shield. Was cast in the 2013 ABC diversity showcase where only 20 actors were chosen among 7,000 submissions. Has a film coming out in 2015 titled "Dirty" which he starred in and produced alongside Roger Guenveur Smith. He can be seen doing stand up comedy all over the country.
Mohammed Shaheen
Comedian
Mohammed got his start in Egypt in 2007 with the first time going on stage at the auditions of the axis of evil when they were touring Egypt. Ever since he's been performing in Egypt and constantly going back and forth to LA and NY performing stand-up. He has a unique style of dead-pan one liners while playing his guitar. He's been called the Egyptian demetri Martin even though he looks a lot like Louis ck.
Twitter: @S1linerm
Aron Kader
Comedian
Aron grew up in Washington D.C. He is a genius at impressions and tackles sensitive political subjects with humor. Aron is a founding member of "The Axis of Evil Comedy Tour." He starred on Comedy Central's "Premium Blend", "The Shield," F/X, VH1, E!, and CNN. Aron has been featured on NPR, in The Wall Street Journal, Newsweek, and TIME. Kader has performed on Comedy Central's "The Watch List," and NBC's "Beverly Hills SUV."
Nour Hadidi
Comedian
Since first performing in 2012, Nour has opened for comedians like Andy Pitz, Erin Jackson, DeAnne Smith, David Pryde and Mike Patterson. She was also a ' Young Gun of Comedy', an annual feature by the Comedy Nest club featuring the next generation of comedians. In 2013, Nour was an opening act for Wonho Chung's Montal stop of his North American & European Tour and has been a member of the 'Kosher Jokes for the Halaladays' tour in Montreal and Ottawa for the past three years. She has performed at the Boston Women in Comedy Festival, Toronto's SheDot Festival and is excited to be back for the NY Arab American Festival for the fourth time.
Maher Matta
Comedian
Maher Matta started performing standup while in college in and hasn't stopped making people laugh since. He's performed all over the country at various comedy clubs and festivals including The World Series of Comedy, The New York Arab American Comedy Festival (2012, 2013), and the San Diego Comedy Festival. He is also appeared on Laughs Season 2 on FOX. As an immigrant, former police officer, husband, and father, Maher brings a unique perspective to the stage. His style of comedy revolves around day-to-day observations and story telling from his life growing up as a Lebanese immigrant.
Byron Sadik
Comedian
Cerebral, caustic, and fearless, Byron Sadik is one of the hottest comics out of the Detroit comedy scene. He turns his venomous wit on everything from online dating, his failed stint as a cagefighter, and his own personal anecdotes. He has opened for some of the best comics in the country, including Hal Sparks and Doug Stanhope.
Murad Saleh
Comedian
He grew up in Newark, NJ where the only Arabic spoken was either at home or 12 miles away in Paterson. With an engineering background, Murad expresses his less square side to everyone within an earshot. For him, the Annual NYAACF is an opportunity to be in great company-mostly. Many thanks go to Maysoon and Dean for kicking in the door. HB Studios, HB Playwrights, Don't You Know I'm Loco, Starlite, Dirty Egyptians.
Eman Morgan
Comedian
Egyptian American comedian Eman Morgan aka "Celebrity", is arguably one of the hottest stand up comedians today. Besides performing Stand Up, Eman is on a life long mission to personally meet Amr Diab! He also credits his sister for much of his success!
Website: www.emanmorgan.com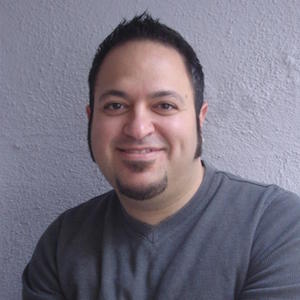 Noel Elgrably
Comedian
Noel Elgrably grew up in the nation's capital but left his day-job selling insurance to pursue his calling as a stand-up comedian in Los Angeles. The son of a French-Moroccan father and Moroccan-Israeli mother, he offers an original comedic perspective on growing up as a child of immigrants below the Mason-Dixon Line. Noel's irreverent and ornery style of comedy reminds us that even though we think we're different we're all the same when we're laughing at ourselves. Noel can be seen performing regularly at Los Angeles area comedy clubs such as The World Famous Comedy Store, The Laugh Factory, The Improv, and The Icehouse. He is an alumni of the New York City Arab-American Comedy Festival, performed in the Axis of Evil Comedy Tour, The Funatical Comedy Tour, is a regular cast member of The Sultans of Satire: Middle East Comic Relief Show, and has appeared on Showtime and Fox TV. He has trained as a dramatic actor and was featured in the indie feature films "Bad Space," "Clean" and "Body High."
Atheer Yacoub
Comedian
Atheer is a Palestinian-American raised in both Alabama and Palestine. She started performing comedy after moving to New York City, and hopes to either make a living at it, or at least redefine what American audiences think when they hear the words "Arab" and "bomb" in the same sentence. She produces a monthly stand up show in NYC, Shady Pines Comedy Hour, and is very excited to return to the festival for her third year.
Website: www.atheeryacoub.com
Facebook: www.facebook.com/atheeryacoub
Twitter: @atheeryacoub
Ramy Youssef
Comedian
Ramy Youssef is an actor and comedian from New Jersey. He currently stars in the Nick at Nite sitcom, See Dad Run, alongside Scott Baio and Mark Curry. He is half of the award-winning NYC sketch duo, Inside Joke Films, who have been official selections at the Chicago, San Francisco, and New York Sketch Comedy Festivals. He currently resides in Los Angeles, where he misses New York.
Ali Sultan
Comedian
Stories with my Muslim Mom podcast host Ali sultan saw his first stand up comedian when he moved to America from Yemen at the age of 15. He grew the desire to go on stage but first he needed to learn English. Years later Ali began his comedy adventure to become the first professional Yemeni American comedian to be featured on Television when Kevin Hart hand picked him to perform on Comedy Central's Hart of The City.
He was the winner of 2018 Best of The Midwest contest at Gilda's Laugh Fest! Named "Top 5 comedian to watch" by Growler magazine, Best Local Comic by City Pages, one of 15 Arab American's to steal the spotlight by ArabAmerica.com and featured by tpt PBS and Funny or Die for his sketch work. His special will be premiered as part of Epix's series Unprotected Sets on October 5th.
Website: alisultancomedy.com
Jennifer Jajeh
Comedian
Jennifer is a Palestinian American actor and comedian. A San Francisco native, Jennifer made her way to Los Angeles in 2014 after touring her one woman show across the US, the UK and Middle East for 5 years.
These days, Jennifer can be found on stages across the world honing her unique brand of political comedy and storytelling. In writing, check her out in the the comedic anthology "Don't Panic, I'm Islamic". Or making her tv debut on Season 4 of the Emmy award winning tv show "Transparent". Jennifer is excited to be making her first appearance at the NYAACF.
Website: jenniferjajeh.com